Save development costs with innovative supplier products
From idea to finished system – including consulting and design: We offer everything you need to shape the market of the future with innovative products.
We provide the technical know-how and implement your individual electronics solution. You only have to provide the vision. We are a technology partner that maintains and updates your products throughout the entire lifecycle – even after the start of series production.
This saves you development costs and offers long-term benefits from the constant development of existing systems.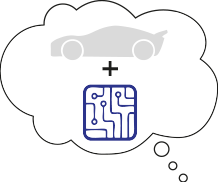 From the idea to a plan
Whether you need to react to digitization in your industry or want to change the market with an innovative idea: We will turn your idea into a specific plan. We guide you throughout the entire process.
We will help you answer the following questions:
How does your idea fit in with the technological development in your industry?
How does the electronic component support your product strategy?
What requirements will the sub and overall system need to fulfill?

From a plan to a concept
We develop a solution concept based on your objectives and requirements. You will receive a realistic road map outlining the path to the finished electronics product. Depending on lot size, required effort and product life we calculate a first quotation.
Your advantage: You save on development costs, build on existing knowledge and benefit from a technology partnership in the long term.

From a concept to a product
Our team of experienced engineers implements your concept on proven software and hardware platforms and performs thorough testing. You get a fully functional prototype ready for series production.

From the start of production to the End-of-life
You can rely on us all of the way: We take over responsibility for development, testing, production and logistics. We develop and maintain the supplier product even after start of production. That means you can concentrate on your core competencies and at the same time receive a product that maintains or even increases its value over time.
Interested?
Contact our sales department for more information. We are looking forward to meeting you!